Drawing strength from our achievements
The COVID-19 pandemic is not yet over, with the Russian invasion of Ukraine adding to the situation. KSB looks back on 150 years of business, but the future will bring a range of challenges for the company. In this interview, Managing Directors Dr Stephan Timmermann, Dr Stephan Bross, Ralf Kannefass and Dr Matthias Schmitz explain why they nevertheless remain optimistic that KSB is on course for success.
KSB's Managing Directors discuss the six pillars of KSB's corporate strategy: sustainability, technology, quality, fluid handling know-how, digitalisation and KSB SupremeServ. In addition, Dr Schmitz reports on upcoming challenges for finance, purchasing and IT, and explains which preparations are under way.
Dr Timmermann, while KSB is feeling the effects of the ­current crises, the company seems to be coping rather well with the challenges so far. How do you explain this?
Stephan Timmermann: Times like these reveal the strengths that make KSB what it is: relentless customer focus, a global footprint, a wide variety of products across numerous markets, our Market Area structure, the expansion of our aftermarket business and a healthy awareness of costs. The efficiency and effectiveness potentials we have generated and the excellent worldwide cohesion of our employees also play a role. It is this mixture that makes us resilient.
Looking to the years and challenges ahead, you recently spoke about weathering the storms while increasing profitability. What measures do you believe will make KSB even more weatherproof?
Stephan Timmermann: Withstanding the turbulence of world events means involving the workforce and holding it together, keeping everyone informed and showing appreciation for what has been achieved. This builds the confidence we need to navigate the ups and downs of the future. But this doesn't work without a plan. This was developed together with the managers of the Regions and Market Areas, and is named Strategy 2030+. The strategy is based on six pillars: sustainability, technology, quality, fluid handling know-how, digitalisation and the expansion of customer support via KSB SupremeServ. We think KSB has enormous potential for each of these six pillars – and this is what we need to tap into.
Crises are part of everyday life. So no matter what happens: We will handle it because we can draw strength from what we have achieved.
— Dr. Stephan Timmermann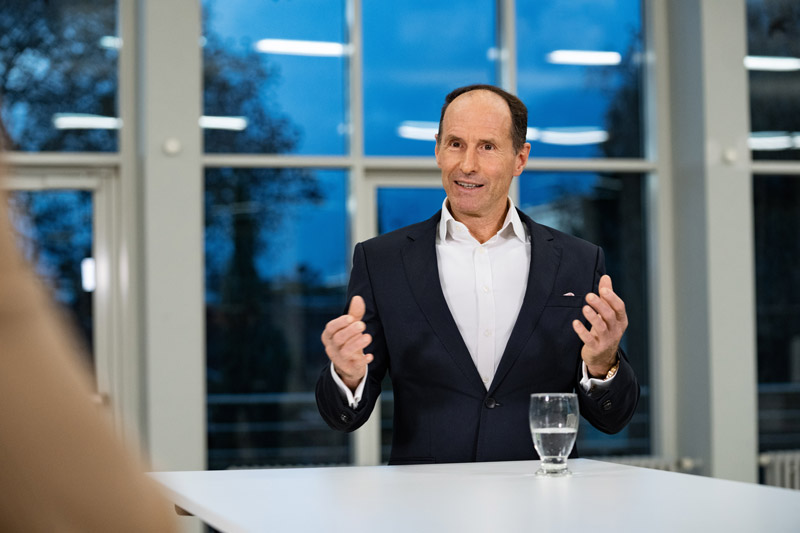 Mr Kannefass, Dr Timmermann has explained the importance of the strategic pillars for KSB's growth. What measures will KSB take to become even more attractive to its customers, cementing its place as their preferred supplier of pumps, valves and services?
Ralf Kannefass: In terms of achieving profitable growth, we are focusing on three pillars: global expansion of spare parts availability, expansion of our business with standard products, and project business with customised products. Our spare parts logistics now cover 30 percent of our products already installed in plants. Our goal is to directly support at least every second customer with our maintenance business. To achieve this, we are expanding the global presence of KSB SupremeServ. By automating procurement of our standard products, we are simplifying customers' processes. Digitalisation will play an increasingly important role. This applies to know-how management and includes the digital sale of our products. We also want to know where our products are installed, and how they are running. This increases the focus on our products' efficiency. We know that pumps account for 10 to 15 percent of global demand for electricity. So increasing the efficiency of our pumps means significant energy savings for customers' systems.
The service and spare parts business is extremely important for KSB – which challenges will it face in the coming months and years?
Stephan Timmermann: We support our customers at every step, from the sale of our products to their eventual recycling. In service, business is based on good contacts and customer loyalty between individuals. We must therefore ensure that more and more employees worldwide are appropriately qualified and perform their work in service with pride and commitment. It is already difficult to recruit such staff today – in the future it will only get harder. We therefore plan to focus on this important challenge.
Ralf Kannefass: Our customers expect solutions which are not only cost-effective, but also timely. In the end, what matters to our customers is that their systems work. This means that spare parts must be produced and delivered at short notice, if necessary with 3D printing or at spare parts factories based in different regions. In addition, trained staff must be available 24 / 7.
The pillars of KSB's strategy
For mechanical engineering companies, high quality and innovative technologies are paramount. Dr Bross, what adjustments does KSB need to make to remain a global leader?
Stephan Bross: We want our company to be perceived as the market leader for technology and quality. Our customers are our priority, and we offer them added value via appropriate solutions powered by the most reliable cutting-edge technology. As a quality leader, we meet customer expectations 100 percent. This applies not only to our products, but also to all associated processes. This means that technology leadership is very closely linked to quality leadership. The overall goal is to ensure that customers turn to the best company in the industry: KSB.
Does the approach to quality inherent in our company culture also apply to sustainability, Dr Timmermann?
Stephan Timmermann: Sustainability is an indispensable part of any entrepreneurial activity. This is what our children, our customers and our suppliers demand – and ultimately something we owe to society itself. We must act in the interests of the planet and the future of humankind. This is also an area in which we can differentiate ourselves from our competitors, because sustainability is an increasingly important purchasing criterion for our customers. We have to make our production environmentally friendly and resource-efficient. If our manufacturing activities are to avoid harming the planet, our carbon footprint must be as small as possible. In addition to energy-efficient products and processes, the resources we use must come from the greenest possible sources. Waste must be minimised or recycled where possible. We are currently expanding our global sustainability network and embedding this topic in our strategy. This will lead to sustainability being incorporated into our guidelines, our leadership code and our system of values.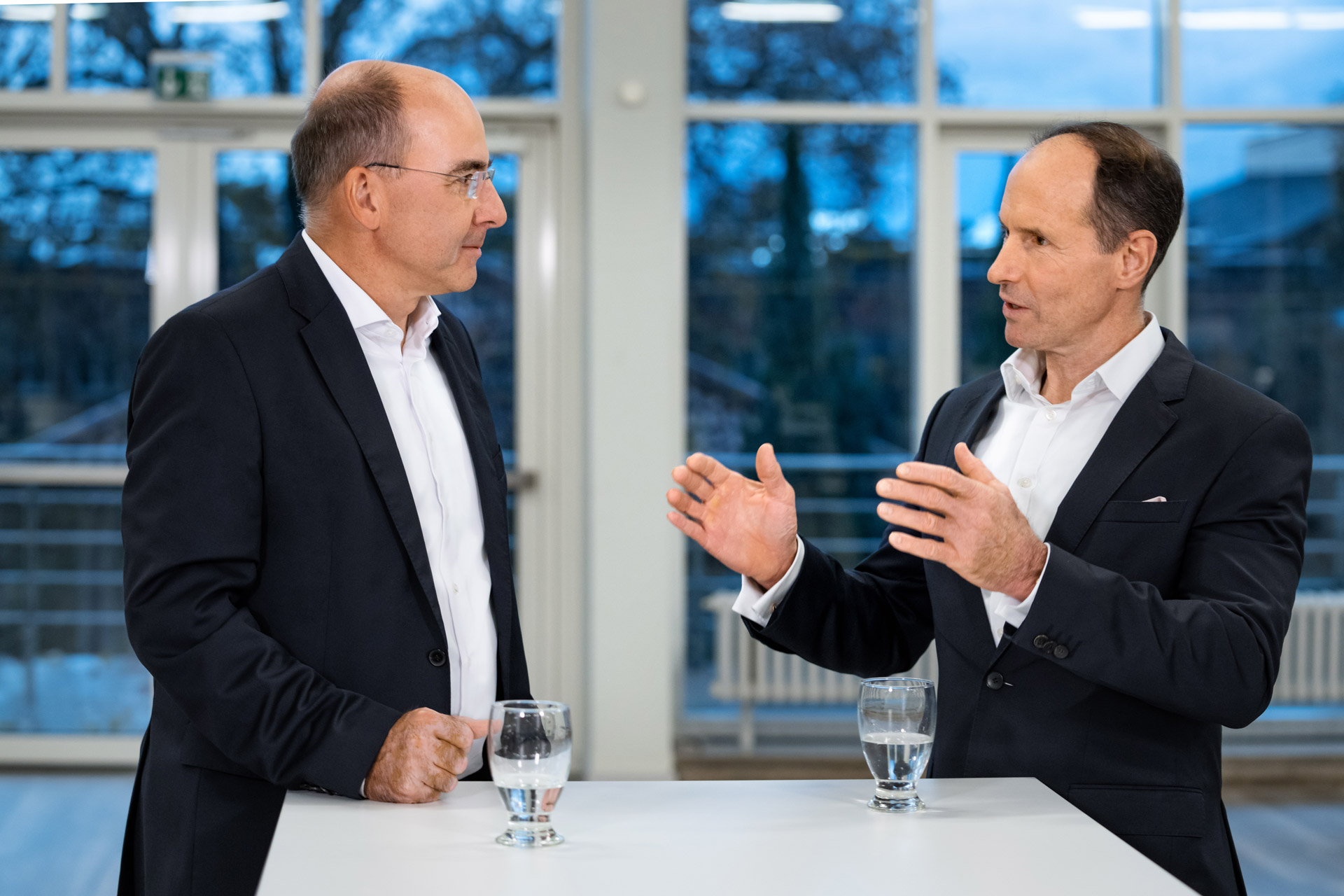 Ralf Kannefass (left) and Dr Stephan Timmermann discuss the next steps for driving KSB's growth.
Beyond the Market Areas and Segments, KSB also has to deal with challenges in the areas of finance, purchasing and IT. For example, recent events have highlighted the importance of a robust IT defence against cyberattacks. Dr Schmitz: How does KSB prepare itself for setbacks in these three areas?
Matthias Schmitz: We have done our homework in purchasing and finance. Every percent we can save in material costs helps to keep our products competitive. This is essential, especially in the face of today's commodity price rises and supply chain interruptions.
IT did a great job during the cyberattack on KSB in April 2022, restoring functionality quickly and reliably. We have since raised security standards with the help of new software built on artificial intelligence. This enables us to detect and deflect possible attacks worldwide at an early stage. We also have experts who monitor our systems around the clock. So we are much better equipped to deal with a cybersecurity threat than we were previously.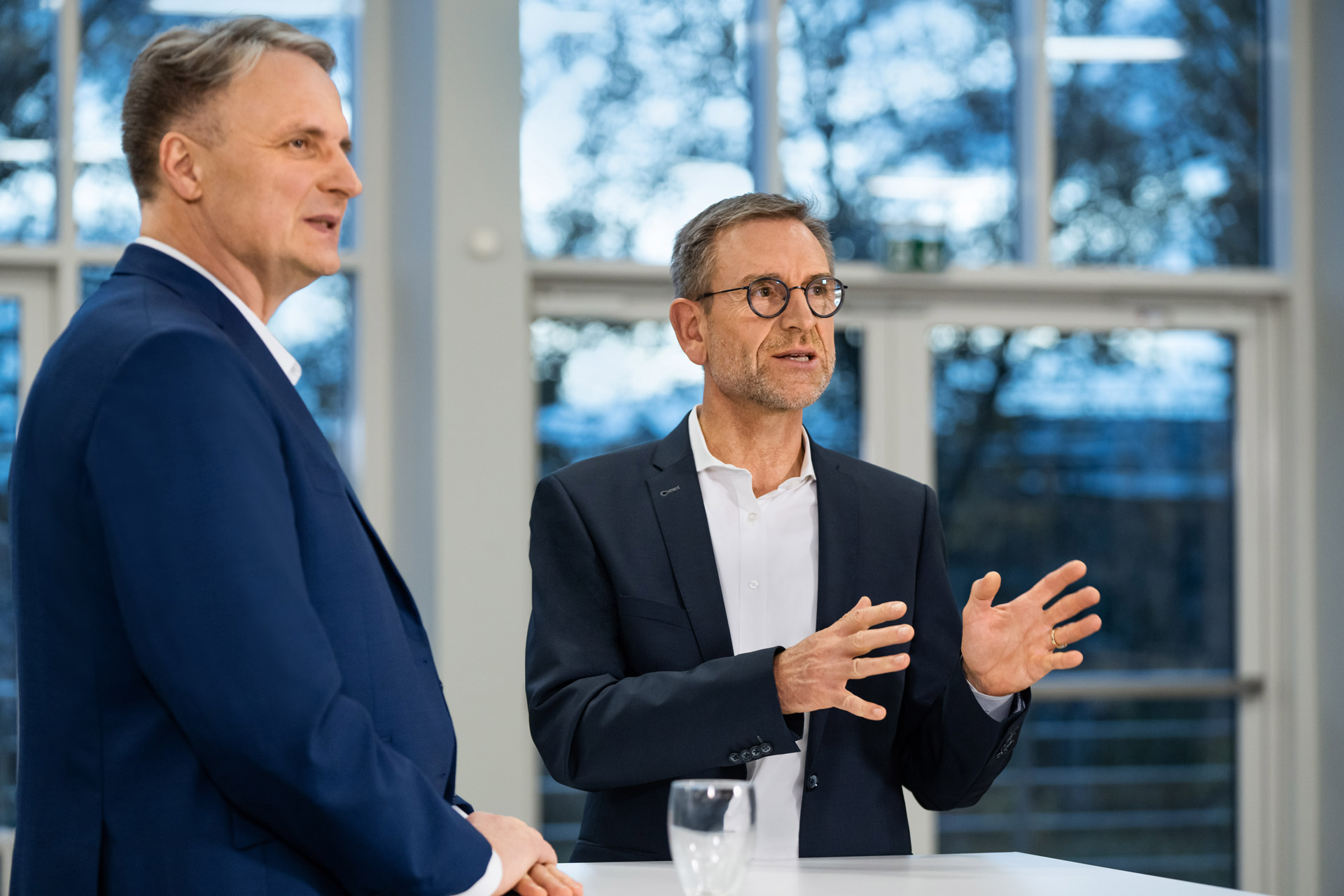 Dr Matthias Schmitz (l.) and Dr Stephan Bross look positively to the future.
In terms of politics and economics, the current global outlook invites scepticism about the future. Why do you remain optimistic?
Matthias Schmitz: From a financial point of view, the fundamental stability of our company is reassuring. We would of course be affected by an economic crisis, but it would have to be very severe for the company to be in danger. Despite all the adversity, we are doing quite well. This is the right time to be looking forward with a sense of confidence and belief in our hearts. KSB is 150 years old – we have survived a great deal. So a strong sense of confidence throughout the company is absolutely justified.
Ralf Kannefass: Our approach to business is strategically focused, balanced and designed to increase market exploitation. Proximity to the customer is our top priority here. That is why we value local presence so highly, even in a ­digitalised world.
Stephan Bross: By thinking about KSB – and making appropriate preparations – we avoid worrying about KSB. But these preparations are imperative. It is now clear that we withstood the COVID-19 pandemic, the cyberattack and the Ukraine war because we had positioned KSB flexibly and made crisis response part of our strategy. We must prepare ourselves for the reality of multiple future crises. Mustering a professional response will become our new normal.
Stephan Timmermann: Leading a company means leading it into the future. Making forecasts is fundamentally difficult, and will not become any easier. The core task of company management is to look ahead and act in a timely and entrepreneurial fashion. I would cast doubt on claims that today's crises are any more diverse than those we have faced in past decades. Crises are part of everyday life. So no matter what happens: We will handle it because we can draw strength from what we have achieved.
Dr Stephan Timmermann explains how sustainability is an indispensable part of any entrepreneurial activity.